Joshua Bennett Receives Whiting Award and Guggenheim Fellowship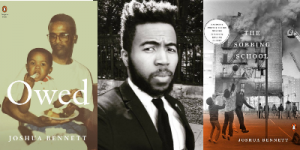 Penguin Random House poet and author Joshua Bennett won a 2021 Whiting Award for Poetry, Nonfiction. The Whiting selection committee commented, "Joshua Bennett's criticism radically expands ideas of what it is to be alive in the world, reshuffling hierarchies of knowledge and power and hinting at a new way of being; the most exciting criticism is utopian in this way. His poetry is piercingly intelligent – there is so much yearning and emotion alongside a mesmerizing musical craft. It welcomes us intimately into the speaker's powerful consciousness, into the landscape of his family, his outsiderhood. Bennett takes up the legacy of W. E. B. Du Bois in his fluid movement between genres, illuminating what it means to see things as they are and to call them by their most merciless names."
Bennett also recently received a 2021 Guggenheim Fellowship in American Literature. The Guggenheim Fellowships were established in 1925 by former United States Senator and Mrs. Simon Guggenheim, in memory of seventeen-year-old John Simon Guggenheim, the elder of their two sons, who died April 26, 1922. The Fellowships are intended for individuals who have already demonstrated exceptional capacity for productive scholarship or exceptional creative ability in the arts.
Congratulations to Mr. Bennett, his editor Paul Slovak, and the entire Penguin publishing team.
Bennett is the author of two collections of poetry, The Sobbing School (Penguin, 2016) and Owed (Penguin, 2020), as well as a book of criticism, Being Property Once Myself: Blackness and the End of Man. (Harvard University Press, 2020). His first work of narrative nonfiction, Spoken Word: A Cultural History, is forthcoming from Knopf, as well as a third collection of poetry from Penguin. Bennett is the Mellon Assistant Professor of English and Creative Writing at Dartmouth College. He holds a PhD in English from Princeton University and an MA in Theatre and Performance Studies from the University of Warwick, where he was a Marshall Scholar. He has received fellowships from the National Endowment for the Arts, the Massachusetts Institute of Technology, the Ford Foundation, and the Society of Fellows at Harvard University. His writing has appeared in The Best American Poetry, The New York Times, The Paris Review, and elsewhere.
Posted: April 21, 2021