Josie Silver's ONE DAY IN DECEMBER is the New "Reese's Book Club x Hello Sunshine" Book Pick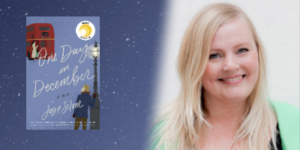 Reese Witherspoon has selected Josie Silver's captivating American debut, ONE DAY IN DECEMBER (Broadway Books), as her "Reese's Book Club x Hello Sunshine" book pick for December. Upon making the announcement on Saturday, December 1, Witherspoon tweeted: "Do you believe in love at first sight? We think you'll fall head over heels for this month's book pick: #OneDayInDecember by @JosieSilver_! When Laurie locks eyes with a stranger one day in December, she feels an instant connection—and spends the next year looking for him."
In the novel, Silver weaves an unabashedly charming love story at the intersection of serendipity, soulmates, and our own choices at the moments when they matter most. Readers will want to curl up with the lovably flawed Laurie, Sarah, and Jack and cheer for love's promise of a happily-ever-after.
Described as "captivating" by the Associated Press, "an unmistakable winner" by USA Today, "a heartwarming holiday romance" by HelloGiggles, and "a must-read" by US Weekly, ONE DAY IN DECEMBER delves deep in its exploration of the many different types of soulmates we encounter over the course of our lives. With her ability to capture love's complexities on the page in prose reminiscent of fellow Penguin Random House authors Jojo Moyes and Jill Santopolo, Silver has woven an enchanting tale that will both warm and break hearts as the characters fall in love with one another and readers, in turn, fall in love with them.
Josie Silver is an unashamed romantic who met her husband when she stepped on his foot on his twenty-first birthday. She lives with him, her two young sons, and their cats in a little town in England called Wolverhampton.
Posted: December 3, 2018