Joy Revolution, Imprint Led by Nicola Yoon and David Yoon, to Launch Inaugural List in Spring 2023
Joy Revolution, a new Random House Children's Books imprint led by bestselling authors Nicola Yoon and David Yoon, will publish its first list in Spring 2023,  as announced Thursday (7/28) by Barbara Marcus, President & Publisher, and covered here by The Hollywood Reporter. The new imprint was launched in 2020 and is committed to publishing young adult romance novels starring people of color and written by people of color. Bria Ragin, Editor, Joy Revolution/Delacorte Press, acquires and edits for the list in partnership with the Yoons, overseen by Wendy Loggia, VP/Senior Executive Editor, Delacorte Press.
"We are beyond thrilled to be launching these wonderful books into the world," say the Yoons. "Talia and Amalie's stories perfectly embody our passionate belief that love is what makes life worth living for each and every one of us."
The inaugural list includes two highly anticipated young adult novels: Highly Suspicious and Unfairly Cute by bestselling author Talia Hibbert, and Queen Bee by bestselling author Amalie Howard.
"Talia and Amalie are fantastic storytellers and genuine people whose values and interests align perfectly with Joy Revolution's mission," says Ragin. "Their beautifully written novels really set the tone for this new imprint, and I could not be happier about the strong start to Joy Revolution's list."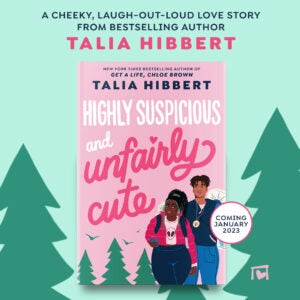 HIGHLY SUSPICIOUS AND UNFAIRLY CUTE by Talia Hibbert (on sale January 3, 2023) is a laugh-out-loud story about a quirky content creator and a clean-cut athlete testing their abilities to survive the great outdoors—and each other. Beloved by rom-com readers for her clever and sexy Brown Sisters trilogy, Talia Hibbert brings her signature swoon, brilliant banter, and desire to further mental health awareness via her characters to her first young adult romance novel.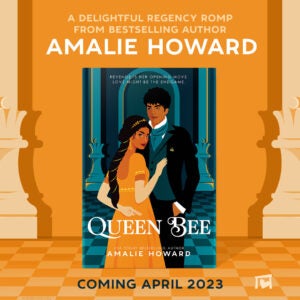 QUEEN BEE by Amalie Howard (on sale April 4, 2023) explores themes of friendship, betrayal, and having agency in your life. The novel follows a teen girl who's seeking retribution against her backstabbing former best friend but finds her plans slightly derailed once she catches the eye of a familiar handsome marquess. Amalie Howard delivers an unputdownable, anti-historical Regency-era romp that's Bridgerton meets The Count of Monte Cristo.
Both books are available for pre-order now.
Coming up on future Joy Revolution lists: YOU BET YOUR HEART by Danielle Parker, a heartfelt childhood best friends to academic rivals to lovers story; HOUSE PARTY,edited by justin a. reynolds, a novel of interconnected stories set during the most epic end-of-year party; SINNER'S ISLE by Angela Montoya, a steamy fantasy romance between a powerful witch and a clever pirate; and CAUGHT IN  A BAD FAUXMANCE by Elle Gonzalez Rose, a queer fake-dating contemporary rom-com following two feuding families.
The Joy Revolution team acquired World rights for HIGHLY SUSPICIOUS AND UNFAIRLY CUTE from Courtney Miller-Callihan at Handspun Literary, and World rights for QUEEN BEE from Thao Le at Sandra Dijkstra Literary Agency.
ABOUT THE JOY REVOLUTION AUTHORS
Talia Hibbert is a New York Times, USA Today, and Wall Street Journal  bestselling and award-winning author who lives in a bedroom full of books in the English Midlands. She writes witty, diverse romance because she believes that people of marginalized identities need honest, positive representation. Some of those books include Get a Life, Chloe Brown; The Princess Trap; and A Girl Like Her. Her interests include makeup, junk food, and unnecessary sarcasm.
Amalie Howard is a USA Today and Publishers Weekly bestselling author of primarily historical romance fiction, including The Beast of Bestwick, The Rakehell of Roth, Always Be My Duchess, and many more. An AAPI, Caribbean-born writer, her work has been featured in publications such as Entertainment Weekly and Oprah Daily. When she's not writing, she can usually be found reading, being the president of her one-woman Harley Davidson motorcycle club #WriteOrDie, or power-napping. She lives in Colorado with her family.
 ABOUT JOY REVOLUTION
Joy Revolution is an imprint focused on romance novels starring people of color and written by people of color, inspired by Nicola and David Yoon's love of romance novels and romantic comedies and desire from an early age to see themselves—people of color—at the center of these stories. Anchored by the core belief that love has the power to unmake and remake the world, Joy Revolution is a place where readers and writers can feel at home and welcome—a safe place where they can comfortably belong, and be free to revel in the full measure of their humanity. Jodi Reamer, Writers House LLC, represents the Yoons.
Nicola Yoon is the #1 New York Times bestselling author of Everything, Everything; The Sun Is Also a Star; and Instructions for Dancing and is a co-author of Blackout. She is a National Book Award finalist, a Michael L. Printz Honor Book winner, a Coretta Scott King New Talent Award winner, and the first Black woman to hit #1 on the New York Times young adult bestseller list. Two of her novels have been made into major motion pictures. Nicola grew up in Jamaica and in Brooklyn, and she lives in Los Angeles with her husband, novelist David Yoon, and their daughter.
David Yoon is the author of the New York Times bestseller Frankly in Love, a William C. Morris Award finalist and an Asian/Pacific American Award for Young Adult Literature Honor book, as well as the YA novel Super Fake Love Song and the adult thrillers Version Zero and City of Orange. He also drew the illustrations for his wife Nicola Yoon's #1 New York Times bestseller Everything, Everything. David grew up in Orange County, California, and now lives in Los Angeles with Nicola and their daughter.
Posted: July 29, 2022