Judd Winick Celebrates His Latest Graphic Novel via Zoom (2/2)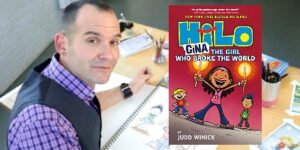 Judd Winick will celebrate the launch of his latest graphic novel, HILO Book 7: Gina—The Girl Who Broke the World (Random House Books for Young Readers), with a virtual author event hosted by Books Inc (San Francisco, CA) via Zoom on Tuesday, Feburary 2 at 8:00 pm (ET).
HILO's back! Winick's New York Times bestselling graphic novel series continues with HILO Book 7: Gina—The Girl Who Broke the World, introducing an exciting, brand new epic story arc starring Gina.
Hundreds of years ago, magic disappeared from Earth. At least…until now. Because suddenly, giant magical beings are appearing and only Gina can see them. Not to mention, Gina can somehow do magic herself. Magic is powerful. But it can also be dangerous. With DJ and HILO's help, can Gina figure out how to protect the magical beings from the creatures who are after them? And how to use her magic to become who she was always meant to be? And can she do it without putting the entire planet in jeopardy?
Judd Winick grew up on Long Island, where he spent countless hours doodling, reading X-Men comics and the newspaper strip Bloom County, and watching Looney Tunes. Today, Judd lives in San Francisco with his wife, Pam Ling; their two kids; and their cats, Chaka and Sleestak. When Judd isn't collecting far more action figures and vinyl toys than a normal adult, he is a screenwriter and an award-winning cartoonist. Judd has scripted issues of bestselling comic series, including Batman, Green Lantern, Green Arrow, Justice League, and Star Wars, and has also been head writer on the Hulu network's animated series, The Awesomes. Judd also appeared as a cast member of MTV's The Real World: San Francisco and is the author of the highly acclaimed graphic novel Pedro and Me, about his Real World roommate and friend, AIDS activist Pedro Zamora.
!! As a reminder, if you are posting to a personal or other non-PRH account you must include the hashtag #TeamPRH !!
Posted: January 29, 2021