Judith Jones Inducted into the James Beard Hall of Fame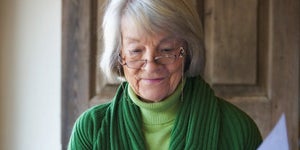 Judith Jones, a longtime editor at Alfred A. Knopf, was honored this week by the James Beard Foundation when she was inducted into their Cookbook Hall of Fame. This was Judith's second Beard honor – in 2006, she received the James Beard Foundation Lifetime Achievement Award.  
Accepting the award on Mrs. Jones' behalf was Lidia Matticchio Bastianich, who said, in part: "Judith's contributions to our industry have been extraordinary. Her work as a cookbook editor has shaped the American culinary landscape. She has been instrumental in identifying culinary greats and shaping their ideas and recipes into award-winning cookbooks. My own journey with Judith has been extraordinary. She is a patient listener, a passionate and witty confidant, a one-of-a-kind editor… and dear friend."
Knopf Chairman Sonny Mehta said, "Culinary publishing today owes a great debt to Judith. Our lives have been enriched by her contributions. I remain grateful for the lessons she taught me."
Mrs. Jones' remarkable career and life was celebrated at the James Beard Awards ceremony in an inspiring video tribute produced by Nick Davis Productions. Watch it here:
Judith worked at Knopf for more than fifty years. As a young editor she is credited with discovering the then-unknown Julia Child and for publishing what became her bestselling classic, MASTERING THE ART OF FRENCH COOKING.  Some of the other noted cookbook authors she has worked with include Lidia Bastianich, James Beard, Marion Cunningham, Rosie Daley, Marcella Hazan, Madhur Jaffrey, Edna Lewis, Joan Nathan, Jacques Pépin, Claudia Roden, Penelope Casas and Nina Simonds. In addition, she also edited a number of literary writers, including John Hersey, William Maxwell, John Updike, and Anne Tyler.
Judith is the author of THE TENTH MUSE: My Life in Food and THE PLEASURES OF COOKING FOR ONE.  She is the coauthor with Evan Jones (her late husband) of THE BOOK OF BREAD; KNEAD IT, PUNCH IT, BAKE IT! (for children); and THE BOOK OF NEW NEW ENGLAND COOKERY. She also collaborated with Angus Cameron on THE L. L. BEAN GAME AND FISH COOKBOOK.
Posted: April 28, 2017