Judy Blume's SUMMER SISTERS is the Read with Jenna August Pick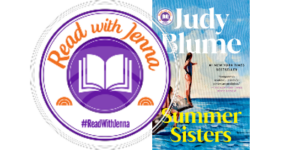 SUMMER SISTERS by Judy Blume (Bantam) is celebrating its 25th anniversary and it's now a Read with Jenna Book Club pick! The #1 New York Times Bestseller has sold 3.5 million copies and is now being adapted by Jenna Bush Hager at Peacock.
The timeless novel tells the story of two women who become friends and grow close over their summers in Martha's Vineyard. Dazzling, reckless Caitlin welcomes Victoria Leonard into the heart of her sprawling, eccentric family, opening doors to a world of unimaginable privilege, sweeping her away to vacations on Martha's Vineyard, an enchanting place where the two friends become "summer sisters." Years later, their friendship has faded, but Caitlin begs Victoria to be the maid of honor at her wedding. And Victoria chooses to go, because she wants to understand what happened during that last shattering summer. And, after all these years, she needs to know why her best friend—her summer sister—still has the power to break her heart.
The classic novel is one that can be revisited again, and again  and makes it the perfect Read with Jenna August Pick!
About Judy Blume
Judy Blume spent her childhood in Elizabeth, New Jersey, making up stories inside her head. She has spent her adult years in many places doing the same thing, only now she writes her stories down on paper. Adults as well as children will recognize such Blume titles as Are You There God? It's Me, Margaret; Blubber; Just as Long as We're Together; and the five book series about the irrepressible Fudge. She has also written four novels for adults, In the Unlikely Event, Summer Sisters, Smart Women, and Wifey, all of them New York Times bestsellers. More than 80 million copies of her books have been sold, and her work has been translated into thirty-one languages. She receives thousands of letters a year from readers of all ages who share their feelings and concerns with her.
Posted: August 1, 2023