Julie E. Czerneda to Read from Her New Web Shifter Novel via AmazingCon.org (6/12)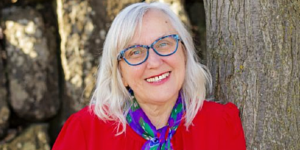 Julie E. Czerneda, author of MIRAGE (DAW), is participating in AmazingCon, described as "a Different Con for a Different World," with a virtual reading and Q&A session via AmazingCon.org on Friday, June 12 at 2:00pm (ET).
The second book in the Web Shifter's Library series, MIRAGE returns to the adventures of Esen, a shapeshifting alien who must navigate the perils of a hostile universe.
Czerneda is a biologist and bestselling writer whose science fiction has received international acclaim. She is the author of the popular Species Imperative trilogy, the Web Shifters series, and the Clan Chronicles novels. She was a finalist for the John W. Campbell Award for Best New Writer. Her stand-alone novel, In the Company of Others, won Canada's Prix Aurora Award and was a finalist for the Philip K. Dick Award for Distinguished SF. Her Night's Edge series, A Turn of Light and A Play of Shadow, won the Aurora Award for Best English Novel in two consecutive years. Julie has edited/co-edited sixteen SFF anthologies, including the Aurora-winning Space Inc. and Under Cover of Darkness. Julie lives with her husband and two children in the lake country of central Ontario, under skies so clear they could take seeing the Milky Way for granted, but never do.
!! As a reminder, if you are a PRH employee posting to a personal or other non-PRH account, you must include the hashtag #TeamPRH !! 
Posted: June 11, 2020