Jumpstart Selects Jenny Torres Sanchez's WITH LOTS OF LOVE for Annual Read for the Record Literacy Campaign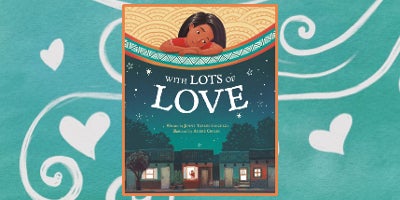 On Monday, Jumpstart for Young Children, a national early education organization, announced that they have selected WITH LOTS OF LOVE (Viking Books for Young Readers) by Jenny Torres Sanchez, illustrated by André Ceolin, for this year's 18th annual Read for the Record literacy campaign.
The campaign will culminate in Read for the Record Day on October 26, 2023, when it will bring together over 2 million readers across thousands of classrooms, libraries, and communities in an annual, global effort to celebrate early literacy and provide access to high-quality children's books.
Published by Viking Children's Books, an imprint of Penguin Young Readers, WITH LOTS OF LOVE is a beautiful story of the ways in which we stay connected across long distances to those we love. It honors the special place that grandparents can hold within families, and celebrates the power of food, home language, and traditional decorations to keep people connected.
Jumpstart's Read for the Record campaign aims to promote representation in children's literature so that books can serve as both mirrors and windows. They want children to see characters who look like them, sound like them, and who share similar experiences, and also be exposed to new outlooks and understanding. With Lots of Love does this beautifully, and will inspire and affirm children, regardless of where they come from.
"I'm thrilled to be able to share the journey of Rocio, her family, and her abuela with the world on Read for the Record Day," said author Jenny Sanchez Torres. "Immigrant families experience so much change and can attest to a sense of a dual existence. I myself have felt as though I've lived on the border of two worlds my whole life. My hope is that [WITH LOTS OF LOVE] will not only serve as a comfort for children and families who have gone through similar experiences, but it will foster understanding and empathy amongst their peers and neighbors."
"We're proud to support Jumpstart in their mission to uplift unique, inclusive narratives that reflect the diversity of our world," said Tamar Brazis, Vice President and Publisher, Viking Children's Books. "In [WITH LOTS OF LOVE], Jenny and André paint a heartwarming picture of love, family, and longing that so many people can relate to, and we cannot wait to share their message with young readers across the globe."
WITH LOTS OF LOVE is available in English and Spanish. Jumpstart will be ordering a large quantity of books through our Premium Sales team – their special edition book will feature reading tips, vocabulary words, reading comprehension questions, and activities developed by Jumpstart's team of early education experts.
Everyone is invited to pledge to read with Jumpstart at readfortherecord.org. You can also purchase books or cases of books to be donated to a Jumpstart classroom or community partner. All proceeds help bring Jumpstart's program to more preschool children in underserved communities across the country.
Posted: April 25, 2023