Junot Díaz Celebrates Diversity, Immigration and Imagination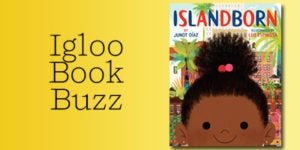 Our new Igloo Book Buzz selection is ISLANDBORN (Dial Books for Young Readers), a debut picture book from Junot Díaz, the New York Times bestselling and Pulitzer prize-winning author of THE BRIEF WONDROUS LIFE OF OSCAR WAO and THIS IS HOW YOU LOSE HER.  Illustrated by Leo Espinosa, ISLANDBORN celebrates cultural diversity in America and our imagination's boundless ability to connect us – to our families, to our past and to ourselves. LOLA, a Spanish-language edition of ISLANDBORN, is being published simultaneously in the U.S. and Canada. 
"Every kid in Lola's school was from somewhere else. Hers was a school of faraway places." So when Lola's teacher asks the students to draw a picture of where their families immigrated from, all the kids are excited. Except Lola. She can't remember The Island – she left when she was just a baby. But with the help of her family and friends, and their memories – joyous, fantastical, heartbreaking, and frightening – Lola's imagination takes her on an extraordinary journey back to The Island.  As she draws closer to the heart of her family's story, Lola comes to understand the truth of her abuela's words: "Just because you don't remember a place doesn't mean it's not in you."
"Immigrant communities don't get enough books and they certainly don't get enough love and I hope ISLANDBORN will be both," says Junot Díaz.  "On the face ISLANDBORN tells of a girl's journey of discovery but it's also a celebration of the kind of imaginaries that we immigrants have often needed to makehomes for ourselves where previously there were none.  When your life is scattered over multiple worlds a strong imagination is a straight-up necessity."
"All readers deserve to see their stories reflected on the page," says Namrata Tripathi, Editorial Director, Dial Books for Young Readers. "Junot Díaz's debut picture book is a gift to the many readers whose lives cross borders and Leo Espinosa's exuberant art reflects how ISLANDBORN is truly a celebration of their stories. Dial is incredibly proud to publish this book and I hope it will be cherished across many generations in many families."
Junot discusses the book in this video, filmed at a recent visit to P.S./I.S. 218 Rafael Hernandez Dual Language School in the Bronx:
There is a tremendous buzz and excitement around ISLANDBORN. The book has already received three starred reviews. Publishers Weekly raves, "Beautifully nuanced and instantly comprehensible… With his tenacious, curious heroine and a voice that's chatty, passionate, wise, and loving, Díaz entices readers to think about a fundamental human question: what does it mean to belong?" School Library Journal  calls the book "A sensitive and beautiful story of culture, identity, and belonging—a superb picture book outing for Díaz and one to be shared broadly in a variety of settings."
Junot will visit schools, bookstores and libraries across the country this March and April as part of an 18-city national tour to promote ISLANDBORN. Media attention includes appearances on NPR Morning Edition, CBS This Morning,  The Daily Show with Trevor Noah and NPR Latino. The book will also be featured in People, The New York Times Book Review, The Washington Post, People en Espanol, Parents Latina, and The Boston Globe, among other outlets.
Posted: March 13, 2018