JUST MERCY Film Based on Bryan Stevenson's Random House Book Opens Nationwide Today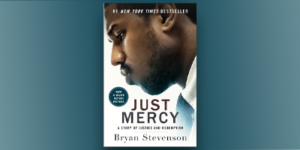 JUST MERCY, Bryan Stevenson's award-winning, #1 New York Times bestselling Random House book, adapted into a major motion picture starring Michael B. Jordan and Jamie Foxx, opens in theaters nationwide today.
Bryan Stevenson was a young lawyer when he founded the Equal Justice Initiative, a legal practice dedicated to defending those most desperate and in need: the poor, the wrongly condemned, and women and children trapped in the farthest reaches of our criminal justice system. One of his first cases was that of Walter McMillian, a young man who was sentenced to die for a notorious murder he insisted he didn't commit. The case drew Bryan into a tangle of conspiracy, political machination, and legal brinksmanship—and transformed his understanding of mercy and justice forever.
JUST MERCY is at once an unforgettable account of an idealistic, gifted young lawyer's coming of age, a moving window into the lives of those he has defended, and an inspiring argument for compassion in the pursuit of true justice.
Winner of the Carnegie Medal for Excellence in Nonfiction, the NAACP Image Award for Nonfiction, and a Books for a Better Life Award, JUST MERCY is "every bit as moving as To Kill a Mockingbird, and in some ways more so . . . a searing indictment of American criminal justice and a stirring testament to the salvation that fighting for the vulnerable sometimes yields."—David Cole, The New York Review of Books
Watch the JUST MERCY film trailer
Posted: January 10, 2020