Kale Williams In Conversation with Jon Mooallem about THE LONLIEST POLAR BEAR via Zoom (3/24)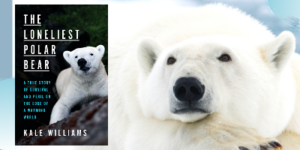 Kale Williams, author of THE LONLIEST POLAR BEAR: A True Story of Survival and Peril on the Edge of a Warming World (Crown), will be in conversation with Jon Mooallem at a virtual event hosted by Powell's Books via Zoom on Wednesday, March 24 at 8:00 pm (ET).
THE LONLIEST POLAR BEAR is the heartbreaking and ultimately hopeful story of an abandoned polar bear cub named Nora and the humans working tirelessly to save her and her species, whose uncertain future in the accelerating climate crisis is closely tied to our own.
Six days after giving birth, a polar bear named Aurora got up and walked away from her den at the Columbus Zoo, leaving her tiny squealing cub to fend for herself. Hours later, Aurora still hadn't returned. The cub was furless and blind, and with her temperature dropping dangerously, the zookeepers entrusted with her care felt they had no choice: They would have to raise one of the most dangerous predators in the world by hand. Over the next few weeks, a group of veterinarians and zookeepers worked around the clock to save the cub, whom they called Nora.
Humans rarely get as close to a polar bear as Nora's keepers got to their fuzzy charge. But the two species have long been intertwined. Three decades before Nora's birth, her father, Nanuq, was orphaned when an Inupiat hunter killed his mother, leaving Nanuq to be sent to a zoo. That hunter, Gene Agnaboogok, now faces some of the same threats as the wild bears near his Alaskan village of Wales, on the westernmost tip of the North American continent. As sea ice diminishes and temperatures creep up year after year, Agnaboogok and the polar bears—and everyone and everything else living in the far north—are being forced to adapt. Not all of them will succeed.
Kale Williams is a reporter at The Oregonian/OregonLive, where he covers science and the environment. A native of the Bay Area, he previously reported for the San Francisco Chronicle. He shares a home with his wife, Rebecca; his two dogs, Goose and Beans; his cat, Torta; and his step-cat, Lucas.
Jon Mooallem is a longtime writer at large with The New York Times Magazine and a contributor to numerous other radio shows and magazines, including This American Life and Wired. His first book, Wild Ones: A Sometimes Dismaying Weirdly Reassuring Story About Looking at People Looking at Animals in America, was chosen as a notable book of the year by The New York Times Book Review, The New Yorker, NPR's Science Friday, and Canada's National Post, among others. He lives on Bainbridge Island, outside Seattle, with his family.
!! As a reminder, if you are posting to a personal or other non-PRH account you must include the hashtag #TeamPRH !!
Posted: March 19, 2021