Karen M. McManus Hopes You Stay Up Too Late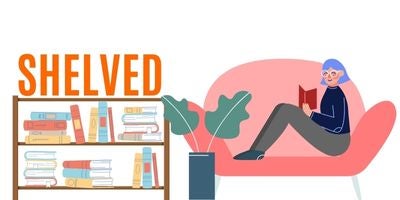 Shelved seeks to connect our Penguin Random House authors with their biggest fans: you! We're asking our authors for snapshots of their bookshelves, and we have a few questions about their reading habits.
Today, we bring you Karen M. McManus, #1 NYT bestselling author of young adult thrillers, including her latest novel: NOTHING MORE TO TELL (Delacorte Press).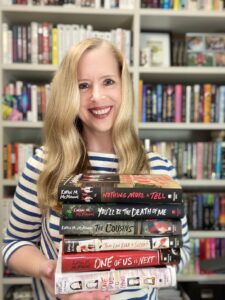 Favorite reading spot? 
My couch, with my dog Sammy on my lap.
What book do you tend to come back to? 
THE SECRET HISTORY by Donna Tartt. I re-read it almost every year.
What literary character would you team up with to solve a crime?
Can I say my own? I think Brynn Gallagher from NOTHING MORE TO TELL would be meticulous, efficient, and do most of the work. If not, I'd have to go with the incomparable Miss Jane Marple of the Agatha Christie crime novels.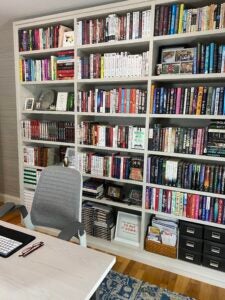 If you could make one book mandatory reading at every high school in the U.S., what would it be? 
That's a tough one, because I'm a firm believer in reading choice – that the book that's right for one student won't necessarily be right for another. So I'd choose the kind of book that's likely to engage a lot of different readers at different levels and, perhaps, inspire them to find more books on their own. I'll go with THE HUNGER GAMES, because not only would it spur interesting classroom discussions, but it's the kind of page-turner that leaves readers wanting more.
Book or television before bed?
Definitely book! I always tell my readers that it's my goal to keep them up too late, and I don't mind at all when it happens to me.
Posted: October 13, 2022