Karen Rose to Talk About Her New Novel SAY NO MORE via Crowdcast (8/18)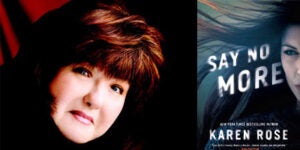 Authors Uncovered presents Karen Rose, author of SAY NO MORE (Berkley) at a virtual event via Crowdcast on Tuesday, August 18 at 8:00 pm (ET).
Mercy Callahan thought she'd escaped the cult decades ago, but its long fingers are reaching out for her again in this electrifying novel in Rose's Sacramento series. Seventeen years ago. That was the last time Mercy Callahan saw Ephraim Burton, the leader of the twisted Eden cult where she was raised. But even though she escaped the abuse and terror, they continue to haunt her. Ephraim, who had thought Mercy long dead, discovers she is in fact alive and that she is digging around for the cult's secrets. And now he'll do anything to take her back to Eden–dead or alive.
Karen Rose is the award-winning, #1 international bestselling author of some twenty novels, including the bestselling Baltimore and Cincinnati series. She has been translated into twenty-three languages and her books have placed on the New York Times, the Sunday Times (UK), and Germany's der Spiegel bestseller lists.
!! As a reminder, if you are posting to a personal or other non-PRH account you must include the hashtag #TeamPRH !!
Posted: August 14, 2020