Kate Russo Delves Into Her Debut Novel with Emily Russo via Zoom (2/9)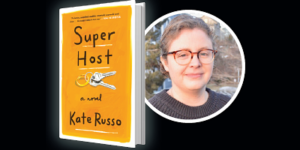 Kate Russo will discuss her debut novel SUPER HOST (Putnam) with Emily Russo at an event co-hosted by Print: A Bookstore and the Maine Writers and Publishers Alliance virtually via Zoom on Tuesday, February 9 at 7:00 pm (ET).
Warm, witty, and utterly humane, SUPER HOST offers a captivating portrait of middle age, relationships, and what it truly means to take a new chance at life.
Bennett Driscoll is a Turner Prize-nominated artist who was once a rising star. Now, at age fifty-five, his wife has left him, he hasn't sold a painting in two years, and his gallery wants to stop selling his work, claiming they'll have more value retrospectively…when he's dead. So, left with a large West London home and no income, he's forced to move into his artist's studio in the back garden and list his house on the popular vacation rental site, AirBed.
A stranger now in his own home, with his daughter, Mia, off at art school, and any new relationships fizzling out at best, Bennett struggles to find purpose in his day-to-day. That all changes when three different guests–lonely American Alicia; tortured artist Emma; and cautiously optimistic divorcée Kirstie–unwittingly unlock the pieces of himself that have been lost to him for too long.
!! As a reminder, if you are posting to a personal or other non-PRH account you must include the hashtag #TeamPRH !!
Posted: February 5, 2021