Katherine Sharp Landdeck to Present THE WOMEN WITH SILVER WINGS via Crowdcast (5/28)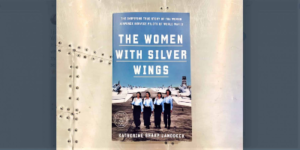 Katherine Sharp Landdeck, author of THE WOMEN WITH SILVER WINGS: The Inspiring True Story of the Women Air Force Service Pilots of World War II (Crown), will be in conversation with Alicia Morgan of the Frontiers of Flight Museum at a virtual event hosted by the Dallas Museum of Art, in partnership with the World Affairs Council, (to register click here) via Crowdcast on Thursday, May 28, at 5:00pm (ET).
A fitting Memorial Day tribute, THE WOMEN WITH SILVER WINGS presents for the first time the untold story of the pioneering female aviators who flew for the US military and helped the United States win World War II. This book is a riveting, big-hearted heroic narrative that brings these heroines—and their story—back in the spotlight.
Landdeck is an associate professor of history at Texas Woman's University, the home of the WASP archives. A Guggenheim Fellow at the Smithsonian National Air and Space Museum and a graduate of the University of Tennessee, where she earned her Ph.D., Landdeck has received numerous awards for her work on the WASP and has appeared as an expert on NPR's Morning Edition, PBS, and the History channel. Her work has been published in The Washington Post, The Atlantic, and HuffPost, as well as in numerous academic and aviation publications. Landdeck is a licensed pilot who flies whenever she can.
!! As a reminder, if you are a PRH employee posting to a personal or other non-PRH account, you must include the hashtag #TeamPRH !! 
Posted: May 27, 2020