Kayleen Schaefer In Conversation about BUT YOU'RE STILL SO YOUNG via Zoom (3/4)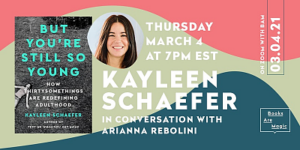 Books Are Magic presents Kayleen Schaefer, author of BUT YOU'RE STILL SO YOUNG: How Thirtysomethings Are Redefining Adulthood (Dutton), in conversation with Buzzfeed's Arianna Rebolini via Zoom on Thursday, March 4 at 7:00 pm (ET).
From the author of Text Me When You Get Home comes a look at what it means to be in your thirties, and to navigate some of the biggest milestones of adult life . . . and how it is more okay than ever to not have every box checked off. BUT YOU'RE STILL SO YOUNG is cleverly structured around five major life events. For each milestone, the book highlights men and women from various backgrounds, from around the country, and delves into their experiences navigating an ever-changing financial landscape and evolving societal expectations. The eight thirtysomethings in this book envisioned their thirties differently than how they are actually living them. He thought he would be done with his degree, she thought she'd be married, they thought they'd be famous comedians, and everyone thought they would have more money.
Kayleen uses her smart narrative framing, her relatable voice, and her own story to show how the thirties have changed from the cultural stereotypes around them, and how they are a radically different experience for Americans now than it was for any other generation. And as she and her sources show, not being able to do everything isn't a sign of a life gone wrong. Being open to going sideways or upside down or backward, means it has gone right: you found meaning and value in many different ways of living.
!! As a reminder, if you are posting to a personal or other non-PRH account you must include the hashtag #TeamPRH !!
Posted: February 28, 2021