Kazuo Ishiguro to Discuss KLARA AND THE SUN with Pico Iyer via eventbrite (3/14)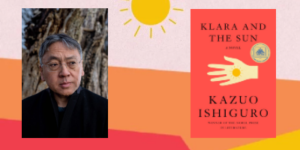 Kazuo Ishiguro, whose new book is KLARA AND THE SUN (Knopf), will be in conversation with Pico Iyer at a virtual event hosted by Books Inc. via eventbrite on Sunday, March 14 at 4:00 pm (ET).
KLARA AND THE SUN, the first novel by Ishiguro since he was awarded the Nobel Prize in Literature, offers a look at our changing world through the eyes of an unforgettable narrator, and one that explores the fundamental question: what does it mean to love? It tells the story of Klara, an Artificial Friend with outstanding observational qualities, who, from her place in the store, watches carefully the behavior of those who come in to browse, and of those who pass on the street outside. She remains hopeful that a customer will soon choose her.
In its award citation in 2017, the Nobel committee described Ishiguro's books as "novels of great emotional force" and said he has "uncovered the abyss beneath our illusory sense of connection with the world."
Ishiguro was born in Nagasaki, Japan, in 1954 and moved to Britain at the age of five. His eight previous works of fiction have earned him many honors around the world, including the Nobel Prize in Literature and the Booker Prize. His work has been translated into over fifty languages, and The Remains of the Day and Never Let Me Go, both made into acclaimed films, have each sold more than 2 million copies. He was given a knighthood in 2018 for Services to Literature. He also holds the decorations of Chevalier de l'Ordre des Arts et des Lettres from France and the Order of the Rising Sun, Gold and Silver Star from Japan.
!! As a reminder, if you are posting to a personal or other non-PRH account you must include the hashtag #TeamPRH !!
Posted: March 10, 2021