KDPG Launching New Virtual Book Club "How Have I Not Read This?" May 5 With Camus's THE PLAGUE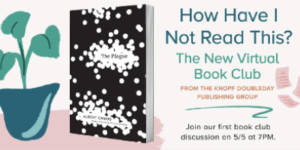 The Knopf Doubleday Publishing Group is launching a new virtual book club: How Have I Not Read This? Its inaugural selection, Albert Camus's THE PLAGUE, will be discussed with participants in a digital event featuring Emily St. John Mandel, Laura Marris, and Alice Kaplan on Tuesday, May 5.
The novel is available as a Vintage paperback and e-book.
Each month, a timely and topical book will be selected for the Book Club from the Knopf Doubleday Group imprint's frontlists and backlists by the Group's authors and editors. Bibliophiles everywhere are invited to read the selection and to join in the conversation. KDPG will be partnering with booksellers and librarians for this endeavor, and readers will be encouraged to respectively buy and borrow from those partners, wherever possible. The monthly selection will be promoted with creative posts across all of the group's social-media channels—including those of Knopf, Doubleday, Pantheon, and Vintage Anchor—as well as partner booksellers' channels, and will offer club assets for participants at the Reading Group Center.
How Have I Not Read This? will be highlighted by a monthly live, virtual Zoom event featuring favorite authors in conversation about the current selection. Readers can join the discussion by using #HowHaveINotReadThis, and also by participating in the Zoom event.
How Have I Not Read This? promises to showcase timeless selections that engage with our current moment, which is epitomized by the inaugural selection. More than seventy years after its original publication, Albert Camus's THE PLAGUE has now become a national bestseller, which was recently hailed in the Los Angeles Times as "a redemptive book, one that wills the reader to believe, even in a time of despair." How Have I Not Read This? will partner with legendary San Francisco bookstore City Lights to host a virtual Zoom discussion on May 5 at 7pm (EDT), featuring Emily St. John Mandel, Laura Marris, and Alice Kaplan in conversation and responding to readers' questions.
Alice Kaplan, Yale University's Sterling Professor and chair of the Department of French, was quoted by NPR on April 1: "I never imagined I would be teaching this novel in the midst of an epidemic… I never imagined I'd need to give a trigger warning for teaching Camus' The Plague… People are saying in the French press, what do you absolutely need to read in this time? You need to read The Plague. Almost as though this novel were a vaccine — not just a novel that can help us think about what we're experiencing, but something that can help heal us."
Laura Marris is currently translating a new edition of The Plague to be published by Knopf in 2021. In the April 16 New York Times, she wrote: "I still hope that books from the past can be a kind of serum for the future, as Camus intended his novel to be. He knew that his book would be needed again, long after his death, in a context he couldn't predict or imagine."
Emily St. John Mandel's just-published novel, THE GLASS HOTEL, is currently on bestseller lists nationwide. Her previous book, the National Book Award finalist Station Eleven, is itself considered one of the best descriptions at humanity before and after a pandemic.
"How Have I Not Read This?" Inaugural Event Details::
**Tuesday, May 5
**DIGITAL DOORS: 6:40PM EST (be the first to submit a question/participate in chat)
**EVENT START: 7:00PM EST (or shortly after once all are checked in)
**Eventbrite Invitation here.
**This event is hosted in partnership with City Lights, the legendary bookstore in San Francisco. You can order The Plague from City Lights here.
**This is a virtual event that will be hosted on Zoom – you will need access to a computer or other device that is capable of accessing and sufficient Internet access. If you have not used Zoom before, you may consider referencing Getting Started with Zoom.**
Posted: April 22, 2020