Kellogg's Feeding Reading Program is Back for a 4th Year!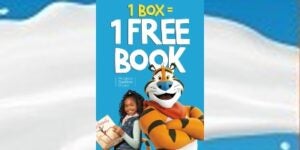 Penguin Random House and the Kellogg Company are partnering for the fourth time to bring the Feeding Reading program to families with children ages 3-16 across the country. Following the success of last year's campaign of distributing more than 300,000 books to kids and families nationwide, we are excited for our Penguin Random House characters and book covers to be featured on more than 80,000,000 Kellogg's products. Since our partnership began in 2019, more than 1.9 million books have been redeemed/donated to date. 
Please enjoy the nationwide commercial below, created to spread awareness for the Kellogg's Feeding Reading program.
Our Special Markets team's partnership with Kellogg's Feeding Reading program allows anyone who buys participating products to earn credits for a free Penguin Random House book. With 140 assorted titles from RHCB and PYR to choose from and the opportunity to redeem up to 10 free books, children are sure to discover their new favorite story! The creative packaging includes classic literary characters  such as the Berenstain Bears, Corduroy, and The Very Hungry Caterpillar. Even iconic Kellogg's character, Tony the Tiger, makes an appearance reading WHO WAS JESSE OWENS (Penguin Workshop)  –inspiring children nationwide to find joy in reading. Possible book formats include board book, paperback and hardcover.  All redeemed book credit orders will be fulfilled directly by our warehouse.
To participate in this year's program, there are just a few simple steps:
Purchase participating Kellogg's products such as cereal, Eggo, Cheez-It, Pop-Tarts, Pringles, and Nutri-Grain by 9/30/22
Grocery Chains, Walmart, Sam's, BJ's= Buy One Box, Get 1 Book Free. A consumer may keep the book or donate it to a local school or library.
Take a picture of your receipt(s) with qualifying purchase(s) and upload to FeedingReading.com. Each receipt must be uploaded separately and within 30 days of purchase, no later than 10/30/22.
Credits must be redeemed by 11/15/22.
For more information on Kellogg's Feeding Reading program, including participating products and book choices, visit FeedingReading.com
Posted: July 29, 2022