Kelsey J. Patel Discusses BURNING BRIGHT via Instagram (4/29)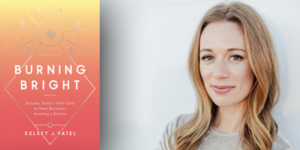 Random House Virtual Event "Well Enough Today" presents Kelsey J. Patel, author of BURNING BRIGHT: Rituals, Reiki and Self-Care to Heal Burnout, Anxiety, and Stress (Rodale) via Instagram on Wednesday, April 29, at 12:30pm (ET).
You have a choice. There is a path out of pain, anxiety, burnout, and the feeling of complete overwhelm. BURNING BRIGHT is your invitation to choose that path.
Patel is a leading wellness expert and holistic healer. She is not only a sought-after spiritual empowerment coach, yoga teacher, Reiki healer, and meditation teacher, but also a multifaceted entrepreneur and inspirational speaker who's worked with major corporations to help address employee burnout.
!!A reminder for PRH employees: If you are posting this article to a personal or other non-PRH account you must include the hashtag #TeamPRH.!!
Posted: April 28, 2020