Kevin Maurer to Discuss ROCK FORCE at a Virtual Event, Register via EventBrite (1/28)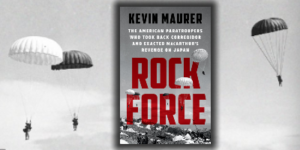 Join Kevin Maurer for a discussion and Q&A about his book, ROCK FORCE: The American Paratroopers Who Took Back Corregidor and Exacted MacArthur's Revenge on Japan (Dutton Caliber), at a virtual Curator Conversation hosted by the Wisconsin Veterans Museum, register via EventBrite, on Thursday, January 28 at 12:00 pm (ET).
Corregidor, a tiny outpost at the mouth of Manila Bay, remained a thorn in America's side through most of the war. When General Douglas MacArthur was forced to retreat from the island in 1941, he famously declared, "I shall return!" And return he did. In 1945, the island was taken by surprise thanks to thousands of brave paratroopers who jumped directly on the battlefield, navigating bombed out craters and spikey broken forests, knowing that hey would be outnumbered as soon as their boots hit the ground.
To write ROCK FORCE, though, Maurer tracked down (and ultimately befriended) the last living veteran who fought on the island, Anthony Lopez (who has sadly since passed); spent countless hours delving into first person accounts of the battle; and flew across the world to walk the grounds of Corregidor with the man who knows the island best. Maurer uncovered astonishing accounts of bravery and heroism during an epic, yet largely forgotten, clash of the Pacific War. Here is an intimate story of uncommon soldiers showing uncommon courage and winning, through blood and sacrifice, the redemption of General MacArthur.
Kevin Mauer is an award-winning journalist and the bestselling coauthor, with Mark Owen, of No Easy Day: The Firsthand Account of the Mission that Killed Osama bin Laden. He has covered special operations forces for a decade. He has been embedded with the Special Forces in Afghanistan six times, spent a month in 2006 with special operations units in east Africa, and has embedded with U.S. forces in Iraq and Haiti. He is the author of four books, including several about special operations.
!! As a reminder, if you are posting to a personal or other non-PRH account you must include the hashtag #TeamPRH !!
Posted: January 26, 2021