Kim Johnson to Virtually Present THIS IS MY AMERICA via Zoom (7/18)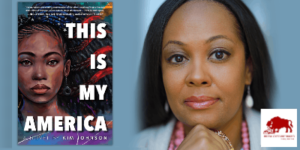 Kim Johnson, author of THIS IS MY AMERICA (Random House Books for Young Readers), will participate in a talk, Q&A and signing at a virtual event hosted by Buffalo Street Books (Ithaca, NY) via Zoom on Saturday, July 18 at 7:00 pm (ET).
Johnson's uplifting first novel explores the racist injustices in the American justice system. In the pages of THIS IS MY AMERICA, seventeen-year-old Tracy Beaumont writes letters to Innocence X, asking the organization to help her father, an innocent Black man on death row. After seven years, Tracy is running out of time–her dad has only 267 days left. Then the unthinkable happens. The police arrive in the night, and Tracy's older brother, Jamal, goes from being a bright, promising track star to a "thug" on the run, accused of killing a white girl. Determined to save her brother, Tracy investigates what really happened between Jamal and Angela down at the Pike. But will Tracy and her family survive the uncovering of the skeletons of their Texas town's racist history that still haunt the present?
Kim Johnson held leadership positions in social justice organizations as a teen. She's now a college administrator who maintains civic engagement throughout the community while also mentoring Black student activists and leaders. She holds degrees from the University of Oregon and the University of Maryland, College Park. Kim lives her best life in Oregon with her husband and two kids.
!! As a reminder, if you are posting to a personal or other non-PRH account you must include the hashtag #TeamPRH !!
Posted: July 15, 2020