KJ Dell'Antonia In Conversation about THE CHICKEN SISTERS via Zoom (1/6)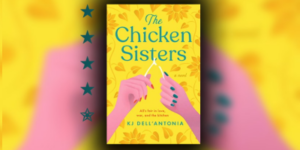 KJ Dell'Antonia will present her novel, THE CHICKEN SISTERS (Putnam), in conversation with Jessica Hunt, producer for NHPR's The Exchange, at a virtual event hosted by Gibson's Book Store via Zoom on Wednesday, January 6 at 7:00 pm (ET).
THE CHICKEN SISTERS has been described as "Three generations. Two chicken shacks. One recipe for disaster." In tiny Merinac, Kansas, Chicken Mimi's and Chicken Frannie's have spent a century vying to serve up the best fried chicken in the state–and the legendary feud between their respective owners, the Moores and the Pogociellos, has lasted just as long. No one feels the impact more than thirty-five-year-old widow Amanda Moore, who grew up working for her mom at Mimi's before scandalously marrying Frank Pogociello and changing sides to work at Frannie's. Tired of being caught in the middle, Amanda sends an SOS to Food Wars, the reality TV restaurant competition that promises $100,000 to the winner. But in doing so, she launches both families out of the frying pan and directly into the fire. . .
KJ Dell'Antonia is the former editor of Motherlode and current contributor to The New York Times, as well as the author of How to Be a Happier Parent. She lives with her family on a small farm in Lyme, New Hampshire, but retains an abiding love for her childhood in Texas and Kansas.
!! As a reminder, if you are posting to a personal or other non-PRH account you must include the hashtag #TeamPRH !!
Posted: January 4, 2021