Knopf Author Camilla Läckberg to Talk About Her New Thriller via Crowdcast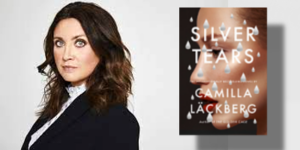 Camilla Läckberg, author of SILVER TEARS (Knopf), will discuss her latest novel in conversation with Crown author Lisa Unger at a virtual event hosted by Books & Books (Coral Gables, FLA) via Crowdcast on Sunday, July 25 at 12:00 pm (ET).
From the internationally bestselling author of THE GOLDEN CAGE comes a bold, mesmerizing thriller of seduction, deceit, and female power, in which a woman's secret cannot stay buried forever.
In SILVER TEARS, Faye Adelheim is living a delicious lie. She is wealthy beyond imagination, she is the Chairman of her self-made global cosmetics brand, and her ex-husband, the monster who killed her beloved daughter Julienne, is living out the remainder of his days behind bars. But unbeknownst to journalists, police officers, investors, and even the lovers she occasionally invites to her bed, Faye has a secret: her daughter is, in fact, alive and well and so is her mother, the woman Faye's father was sentenced for allegedly killing years ago. Together, three generations of women have survived in hiding from the men who sought to destroy them. But unfortunately for Faye, cages are meant to be opened, pillow talk can lead to betrayal, and secrets always end in tears.
Läckberg is the prize-winning, bestselling author of the Fjällbacka series, which has sold more than twenty-three million copies worldwide. Her books are sold in more than sixty countries and have been translated into forty-three languages. She lives in Stockholm.
Unger is the award-winning and New York Times bestselling author of Die for You, Fragile, and Darkness, My Old Friend, among other thrillers. Her novels have sold more than two million copies and have been translated into 26 languages. She lives in Florida with her husband and daughter.
!! As a reminder, if you are posting to a personal or other non-PRH account you must include the hashtag #TeamPRH !!
Posted: July 22, 2021