Knopf Author Lee Cole to Discuss His Debut Novel With Crown Author Hamilton Cain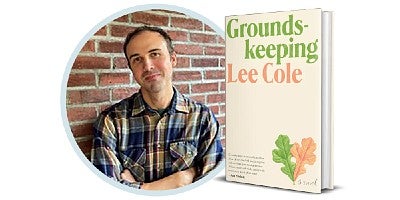 Lee Cole, the author of GROUNDSKEEPING (Knopf), a TODAY Show #ReadWithJenna Book Club Pick, will be discussing his first novel with Crown author Hamilton Cain during a virtual event hosted by Joseph-Beth Booksellers via Zoom on Thursday, March 24 at 7:00 pm (ET).
To register for the event, click here.
In GROUNDSKEEPING, Owen Callahan is an aspiring writer from a blue-collar background with a history of wasting his time and his potential. At 28, he moves back to Kentucky to live with his Trump-supporting family and takes on a groundskeeping job at the local college so he can take advantage of a writing workshop. In the writing workshop, he meets Alma Hazdic, a successful writer with a prestigious position, an Ivy League education, and a liberal family of Bosnian immigrants. As the novel progresses and the pair grow closer in secret, their polarizing romance is intertwined with themes of classism, identity, and coming-of-age in modern America as they struggle to understand the differences between them.
Lee Cole was born and raised in rural Kentucky. He's a 2019 graduate of the Iowa Writers' Workshop, where he was a Maytag Fellow in Fiction and a 2020 Aspen Words Emerging Writer Fellow. He currently lives in New York.
Hamilton Cain is the author of THIS BOY'S FAITH: Notes from a Southern Baptist Upbringing (Crown). He is a former book editor that currently writes for various publications, including Men's Health, Harvard Review, O, The Oprah Magazine and was a finalist for a 2006 National Magazine Award. He is a member of the National Book Critics Circle and lives with his family in Brooklyn, New York.
!! A reminder: You can share this feature. If you are posting to a personal or other non-PRH account you must include the hashtag #TeamPRH !!
Posted: March 23, 2022