Knopf Author Michael Finkel Uncovers the Story of the Last True Hermit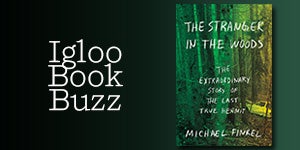 Many people dream of escaping modern life, but most will never act on it. THE STRANGER IN THE WOODS: The Extraordinary Story of the Last True Hermit by Michael Finkel is the remarkable true story of a man who lived alone in the woods of Maine for 27 years, making this dream a reality—not out of anger at the world, but simply because he preferred to live on his own. 
This week's Igloo Book Buzz selection goes on sale from Alfred A. Knopf on Tuesday, March 7 and in this feature Mr. Finkel shares insights into how he connected with, got to know and explored the life of the solitary subject of his book:
"I first learned about Christopher Knight from a small article in the on-line edition of The Kennebec Journal, a central Maine newspaper. I was intrigued that a man, who'd been arrested for stealing food from the kitchen of a summer camp, claimed that he had lived by himself, alone in the woods, for 27 years. I was fascinated by his statement that he never once lit a fire, for fear that smoke would give his campsite away. I was stunned to read that he never had a single conversation the entire time he was in the woods, or was ever sick, or drove in a car, or spent money, or slept indoors. I was curious to know how he'd managed to remain hidden for so long, and of course I was itching to know why.
"But I think what shifted my profound interest into something bordering on obsession was a single tidbit in that first article: that Knight stole hundreds, perhaps thousands, of books.  Two of my favorite activities in life are camping out in the woods and reading books — most wondrously, both at once. And here, it seemed, was the world champion of both. Of course, I needed to contact Mr. Knight.
"Knight is an American original, to say the very least. A very strong case can be made that Knight is the most solitary known person in all of human history. Not surprisingly, it was somewhat difficult to interview such a man.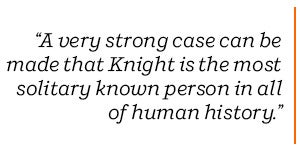 "For several weeks, Knight and I exchanged hand-written letters. He refused to use a telephone, so we never once spoke over the phone.  I visited Knight while he was being held in jail nine times, each visit lasting an hour. Knight did not like to make eye contact, so we spent most of the visits staring over each other's shoulders. Knight sometimes allowed long, uncomfortable (for me) silences to pass between making statements.
"But at the same time, Knight had such a lively and witty and quirky mind, and such an elegant way of speaking, that listening to him tell his tale not only riveted me because of the sheer unrivaled audacity and daring and difficulty and, at times, joy of his solitary existence, but also thrilled the writer in me because of the lyricism of his language and the depths of his insight. I don't think I will ever in my life come across a story as strange and compelling as this one."
Mr. Finkel's agent, Stuart Krichevsky, commented, "If I had to assign a single attribute to Mike Finkel, I'd choose intensity: it perfectly describes the author, his reporting, and his approach to his work.  Mike's first draft of THE STRANGER IN THE WOODS, which he shared with no one, ran to thousands of pages.  He then worked obsessively to boil that mountain of information down to its very essence, resulting in 195 pages of seamless and utterly gripping prose."
Posted: March 6, 2017