Knopf Author Rufi Thorpe a Finalist for the 2021 PEN/Faulkner Award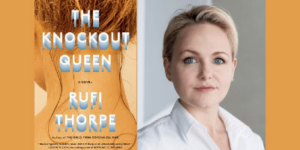 The finalists for the 2021 PEN/Faulkner Award for Fiction have been announced and include one Penguin Random House title, THE KNOCKOUT QUEEN by Rufi Thorpe (Alfred A. Knopf). Five finalists were selected from the 10-title longlist that had been compiled from among 419 submitted novels and short story collections published in the U.S. during 2020. To view the complete shortlist, click here.
The 2021 PEN/Faulkner Award winner will be revealed on April 6 and receive $15,000. The remaining four finalists will each receive an honorarium of $5,000. An awards celebration will be held virtually on May 10, and also honor LeVar Burton, who has been named the inaugural PEN/Faulkner Literary Champion.
Posted: March 9, 2021