Knopf Books for Young Readers to Publish New Novel by R. J. Palacio This Fall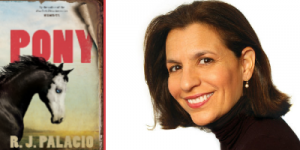 PONY, the highly anticipated new novel by R. J. Palacio—author of Wonder, now the longest-running title on the New York Times middle-grade hardcover bestseller list—will be published on September 28, 2021, it was announced by Barbara Marcus, President and Publisher, Random House Children's Books. With a first printing of 500,000 copies, the novel will be edited by Palacio's longtime editor Erin Clarke, Editorial Director, Alfred A. Knopf Books for Young Readers. PONY will release simultaneously in the UK from Penguin Random House Children's.
"Pony has been with me for quite some time," says Palacio, "partly because it took me a while to figure out how to tell an epic tale in only 60,000 words, but mostly because it's a very personal story for me. From the time I was very young, my greatest fear had always been that I'd somehow be left alone. It's not an uncommon childhood fear, and this novel is about facing that fear, but it's also about realizing that the connections we make in our lifetimes never really end. So, yes, it's a story of resilience and courage, an adventure story in the most classic of ways, part American western, part ghost story—but for me, ultimately, it's a story about love."
PONY is the first novel from Palacio outside of the world and characters of her globally beloved debut, Wonder (2012). Set in the mid-1800s, PONY takes readers on a harrowing yet distinctly beautiful journey through the vast American landscape. It is a story of adventure, friendship, and the invisible bonds that connect us. Readers will meet a young boy that only Palacio could envision. Twelve-year-old Silas is awoken in the dead of night by three horsemen who have come to take his father away. Silas is left shaken, scared, and alone except for the presence of his companion, Mittenwool . . . who happens to be a ghost. When a mysterious pony shows up at his door the next morning, Silas knows what he has to do. He will set out on a perilous quest to find his father—an adventure that will connect him with his past and future, and the unknowable world around him.
PONY will resonate with both young readers and adults, those who love The Yearling or The Black Stallion, and adult fans of True Grit or the lean, searing prose of Cormac McCarthy.
This literary masterpiece follows Palacio's #1 New York Times bestselling novel Wonder and the New York Times bestselling graphic novel White Bird: A Wonder Story. Wonder has been published in more than 50 languages and remains on the New York Times bestseller list, where it has spent over nine years, including 199 weeks at #1. Since its publication in 2012, Wonder has taken the children's publishing world by storm, launching an international "Choose Kind" movement, "kindness curricula" in classrooms across the country, a major motion picture and four additional books in the world of Wonder: Auggie & Me: Three Wonder Stories; 365 Days of Wonder; a picture book We're All Wonders; and a graphic novel White Bird: A Wonder Story, in addition to a licensed merchandising program. Together, Palacio's titles have sold more than 16 million copies worldwide.
"Pony is the right book coming at the right time," says Clarke. "It has the makings of a modern classic. A bighearted and bold story, Pony celebrates generosity, finding courage in the most unlikely places, and the beauty and tenderness of the human experience. Ten years ago Auggie Pullman taught the world to Choose Kind, and now Silas Bird teaches the world to Choose Love."
Posted: June 7, 2021