Knopf Canada Author Madeleine Thien Wins 2016 Scotiabank Giller Prize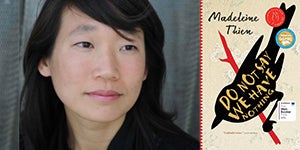 Madeleine Thien has won the 2016 Scotiabank Giller Prize, Canada's preeminent annual award for literary fiction, for her novel DO NOT SAY WE HAVE NOTHING, published by Alfred A. Knopf Canada and edited by Lynn Henry.
The Giller Prize jury offered this high praise: "DO NOT SAY WE HAVE NOTHING by Madeleine Thien entranced the jurors with its detailed, layered, complex drama of classical musicians and their loved ones trying to survive two monstrous insults to their humanity: Mao Zedong's Cultural Revolution in mid-twentieth century China and the Tiananmen Square massacre of protestors in Beijing in 1989 … A beautiful homage to music and to the human spirit, DO NOT SAY WE HAVE NOTHING is both sad and uplifting in its dramatization of human loss and resilience in China and in Canada."
Congratulations to Ms. Thien, her editor and publisher as well as these Giller Prize finalists:
Mona Awad for 13 WAYS OF LOOKING AT A FAT GIRL, published by Penguin Canada and edited by Nicole Winstanley
Gary Barwin for YIDDISH FOR PIRATES, published by Random House Canada and edited by Amanda Lewis
The Scotiabank Giller Prize annually awards $100,000 to the author of the best Canadian novel or short story collection published in English and $10,000 to each of the finalists. The award is named in honor of the late literary journalist Doris Giller and was founded in 1994.
More information can be found at www.scotiabankgillerprize.ca.
Watch Madeleine Thien's acceptance speech here.
Posted: November 8, 2016