Knopf Celebrates National Poetry Month with Poem-A-Day Program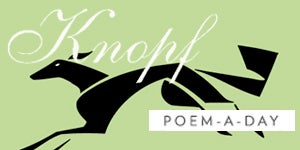 In 1996, the Academy of American Poets set aside April as the official month to focus attention on poetry and its many contributions to our culture. Knopf takes part in the National Poetry Month celebration with our Poem-A-Day program. Each day during the month of April, we send out a free poem by a new or established poet drawn from the extensive list of books published by our group of imprints. 
Some of the poems are treasures from the rich Knopf backlist, some are recently published works, and some are from collections that are soon to be released. This year, Knopf is announcing a new volume entitled RESISTANCE, REBELLION, LIFE: 50 Poems Now.  Edited and introduced by Knopf poet Amit Majmudar, Poet Laureate of Ohio, the book will include poems written from a myriad of perspectives, and yet represents only a fraction of the robust flowering of political poetry in the United States at the moment. Throughout April, we will feature poems from those who shared their work with us in the spirit of poetic resistance.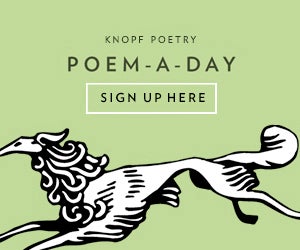 Some of the poets contributing to this collection include Solmaz Sharif, Eileen Myles, Kevin Young, Juan Felipe Herrera, Ada Limón, Jane Hirshfield, Paul Muldoon, Sharon Olds, Jericho Brown, Maggie Smith, Michael Dickman, and Fady Joudah. The title of the book, Resistance, Rebellion, Life, is a salute to a collection of essays that was written by Albert Camus, "Resistance, Rebellion, and Death."
Clifton Fadiman, the noted editor and critic, once said that "any American publisher who accepts and prints fine verse is making a voluntary contribution to Western culture." Knopf is honored to continue that tradition, and devoted to helping bring poetry to a wider audience.
Join the celebration and sign up to receive your Poem-A-Day during the month of April.
Happy Poetry Month from Knopf
Posted: April 5, 2017