Knopf Executive Editor Edward Kastenmeier's Take on Jo Nesbo's THE KINGDOM: "A Dynamite Package"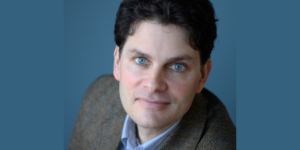 Jo Nesbø's new novel, THE KINGDOM, published this week by Knopf, is a tense and atmospheric standalone thriller. Among the book's early readers was Stephen King: "I read The Kingdom and couldn't put it down … Suspenseful … Original … This one is special in every way."
In our Three Questions for an Editor Igloo interview, Knopf VP & Executive Editor Edward Kastenmeier talks about Jo Nesbø's distinctive writing qualities, the process of working on THE KINGDOM, and why this book will have particular appeal to American readers.
What characteristics distinguish Nesbø as a writer and a storyteller?
Jo's writing is peopled with fascinating and fully fleshed out characters, his stories are driven by riveting and intricate plotting, and his writing displays an insight into human nature among the best I've seen. These attributes create a reading experience that is completely immersive and absolutely absorbing.
How would you describe the editor/author process of working with Jo Nesbø and his translator Robert Ferguson?
It really was a team effort: The Norwegian editor, the British editor, the translator, and us. One of the fascinating aspects of working on translations normally is that by the time I see the manuscript the book has been edited in the home country, so the overall story has already been vetted. Much of my job is to massage the book for the American ear. In this case we were all editing at the same time so in addition to that we were able to collaborate on larger plot points.
In what ways will THE KINGDOM, a standalone, appeal to Nesbø's longtime readers and attract new ones?
THE KINGDOM has all the virtues that I've described above, but in addition it also has a setting and an ethos that I think will appeal particularly to an American audience. It's steeped in classic American noir and set in a rural town straight out of a Daniel Woodrell novel. That's a dynamite package.
Posted: November 12, 2020