Knopf to Publish Memoir by Kima Jones in 2023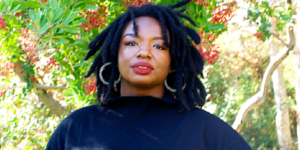 Knopf will publish a memoir by Kima Jones, writer, poet, and the founder of Jack Jones Literary Arts, a public relations firm devoted exclusively to elevating the voices of Black and Brown women. Jones will write about growing up in Harlem in New York City's foster care system. She recasts the '90s "urban" story of drug addiction, trauma, and the criminal justice system into a volume that speaks instead to love, strength, inherited wisdom, and resilience.
"Butch is a memoir about my father as much as it is a memoir about my mother as much as it is a memoir about me," said Jones. "Butch is as well a liturgical survival text for Black women. It is a way forward for Black women who have survived both state-sanctioned and domestic violence."
Butch is scheduled for publication in fall 2023. The announcement was made by Reagan Arthur, Executive Vice President and Publisher. Jordan Pavlin, Senior Vice President and Editorial Director, acquired North American rights from Monika Woods at Triangle House Literary, and will edit the book.
"Kima Jones has written an electrifying debut," said Pavlin. "A genre-bending, audaciously hybrid memoir that uses the story of her father, Butch, and his troubles as a leaping off point for a devastating, life-affirming narrative about Black community and female strength."
Edwidge Danticat notes, "Butch is a tour de force memoir that reaches deep and dives into the depths of your soul. Full of heart, intellect, reparative joy, and excruciating pain, Butch feels like the book our ancestor mothers gathered together to channel through Kima Jones to write. Reading a draft of this formidable and powerful memoir, I envisioned Gwendolyn Brooks and Audre Lorde, Paule Marshall and Toni Morrison, all guiding Jones's very singular hand, all while telling her, 'You're making us proud, Kima. You're making us very proud.'"
Music, another major influence on Jones's life, will play a role in the memoir. "Part of my love for music," she says, "was the experience of it in totality: reading the lyrics in the CD booklet, looking at the CD art, and listening to the music itself. It was the amalgamation of these individual pieces that made the music a whole and real thing for me." Jones considers Butch both her first book and her first album.
Kima Jones is the founder of Jack Jones Literary Arts, the first book publicity agency in the country devoted exclusively to promoting Black and Brown writers. Jones worked with Tyehimba Jess on his Pulitzer Prize-winning poetry collection, Olio, and with Natalie Baszile on her book Queen Sugar, which was adapted by Ava DuVernay and Oprah Winfrey into a television series for OWN. She has written for GQ, Guernica, Poets & Writers, and McSweeney's, and her poem "Homegoing AD" was included in the collection The Fire This Time, edited by Jesmyn Ward. In a profile for The New York Times in 2018, Lovia Gyarkye said "Kima Jones is taking the publishing industry by storm."
Posted: November 30, 2020