Knopf to Publish New Ethan Hawke Novel in February 2021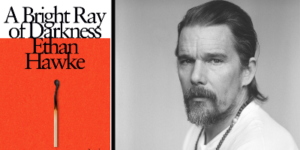 Alfred A. Knopf will publish a new novel by Ethan Hawke, A BRIGHT RAY OF DARKNESS, on February 2, 2021, it was announced by Jordan Pavlin, Senior Vice President and Editorial Director at Knopf. This will be the fifth book by Hawke, the acclaimed actor, filmmaker, and author, who has been nominated for four Academy Awards, including two for acting and two for screenwriting. A BRIGHT RAY OF DARKNESS will have a first printing of 75,000 copies, and will be published simultaneously by Penguin Random House Audio, read by the author.
A BRIGHT RAY OF DARKNESS tells the story of a young man making his Broadway debut in Henry IV just as his marriage is falling apart.
According to Pavlin, "It is a novel soaked in rage and sex and longing and despair, a ferociously intelligent evisceration of fame and celebrity, and a transfixing backstage glimpse into the magic of New York theater."
Hawke's most recent book, Rules for a Knight, was published in 2015 and sold more than 100,000 copies. His other books include the novels Ash Wednesday and The Hottest State and the graphic novel Indeh.
Hawke made his own debut on Broadway in 1992 in Chekhov's The Seagull and has appeared on Broadway five times, most recently in a revival of Sam Shepard's True West. Notably, in 2007 he received a Tony Award nomination for his performance in Tom Stoppard's epic three-part The Coast of Utopia.
He is making his television debut with the Showtime limited series The Good Lord Bird, based on James McBride's National Book Award––winning novel. Hawke stars in, cowrote, and executive-produced the seven-part series, which premiered on Sunday, October 4.
In a career that spans more than three decades, Hawke's prolific filmography includes screen performances in Dead Poets Society; Reality Bites; Gattaca; Training Day; Before the Devil Knows You're Dead; Boyhood; Born to Be Blue; Maudie; Richard Linklater's trilogy Before Sunrise, Before Sunset, and Before Midnight; and First Reformed, among countless others. As a filmmaker, he most recently directed, cowrote, and produced IFC Films' Blaze, inspired by the life of musician Blaze Foley, and made his documentary filmmaking debut with Seymour: An Introduction, based on the legendary pianist and teacher Seymour Bernstein.
Posted: October 5, 2020