Knopf to Publish New Novel by Acclaimed Nigerian Writer Ayobami Adebayo in 2022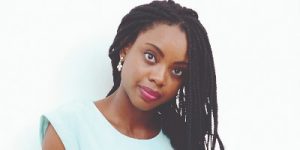 Knopf will publish a new book by Ayobami Adebayo, whose debut novel, STAY WITH ME, was released to wide acclaim in 2017. Her new novel, A SPELL OF GOOD THINGS, is the story of two families in Nigeria at opposite ends of the economic spectrum, whose lives collide when political turmoil erupts in their city. It will be published simultaneously by Knopf in the US and by Canongate in the UK in Summer 2022.
The announcement was made by Reagan Arthur, Executive Vice President and Publisher of Knopf, Pantheon, and Schocken Books. The book will be edited by Jennifer Jackson, Vice President and Executive Editor of Knopf, and Ellah Wakatama, Editor at Large of Canongate.
In her review of STAY WITH ME, New York Times critic Michiko Kakutani described Adebayo as "an exceptional storyteller. She writes not just with extraordinary grace but with genuine wisdom about love and loss and the possibility of redemption. She has written a powerfully magnetic and heartbreaking book."
About her new book, Adebayo says, "I began thinking about this novel in 2013, after a detour compelled me to realize what remained invisible to me in a town that I had long called home. While it has taken a few years to write a novel I hope illuminates the tangled longings of its characters, I'm excited to share it with readers."
A SPELL OF GOOD THINGS centers around Eniola, whose parents struggle to make ends meet and who can no longer afford his apprenticeship at a local tailoring shop, and Wuraola, an overworked young physician and the daughter of the tailor's most valued customer. When Eniola is caught up in a web of decisions that conflicts with the local political forces, the fates of the two families become entwined.
"There is no greater pleasure for an editor than to see an author deliver a second novel that exceeds all the promises made by a first," says Jackson. "I fell in love with STAY WITH ME because of the passion, the longing, the wit, and the author's ability to shatter my heart with a single phrase. A SPELL OF GOOD THINGS does all that and more, representing an enormously gifted writer who has decided to paint on an even larger canvas, offering us the story of two families and through them an entire country straining under the pains of corruption, violence, and inequality. It is truly a stunning step forward for a young writer who was already so impressive."
Adebayo was born in Lagos, Nigeria, in 1988. Her first book was a finalist for the Women's Prize for Fiction, has been translated into eighteen languages, and was selected as a notable book by the Economist, the New York Times, and the Wall Street Journal.
Ayobami Adebayo photo credit: Pixels Digital
Posted: April 26, 2021