Knopf to Publish New Novel by Emily St. John Mandel in April 2022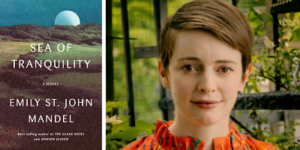 Emily St. John Mandel, bestselling author of Station Eleven and The Glass Hotel, has written a new novel, SEA OF TRANQUILITY, which will be published by Alfred A. Knopf on April 19, 2022. The announcement was made by Reagan Arthur, Executive Vice President and Publisher, Knopf. Jenny Jackson, Vice President and Executive Editor, acquired the book from Katherine Fausset at Curtis Brown, Ltd. SEA OF TRANQUILITY will be published in hardcover and eBook by Knopf, and in audio by Penguin Random House Audio.
SEA OF TRANQUILITY, a novel conceived and written during the pandemic, is a story of time travel that probes many aspects of reality. "I spent the entirety of 2020 in New York City," says Mandel. "This is the kind of book that happens when you're working in a soundscape of constant ambulance sirens." The novel moves from British Columbia in 1912 to an outpost on the moon in 2401, with stops along the way in other places and eras. "There is, of course, a time traveler in it," says Mandel. "There is also an author living on a moon colony who visits Earth on a book tour."
Moving across centuries and space, SEA OF TRANQUILITY is a remarkable feat of storytelling that delves into themes that will be familiar to Mandel's many readers—time, art, love, wilderness, what makes the world real—and introduces readers to a remarkable cast of characters.
"In SEA OF TRANQUILITY, Emily blends historical fiction, science fiction, and autofiction to reveal essential human truths," says Jackson. "She captures the moment we are living through with devastating emotional precision. I read this book with my heart in my throat, and I know others will too."
EMILY ST. JOHN MANDEL is the author of five previous novels. The Glass Hotel was selected by President Barack Obama as one of his favorite books of 2020, was short-listed for the Scotiabank Giller Prize, and has been translated into twenty-three languages. Station Eleven was a finalist for a National Book Award and the PEN/Faulkner Award, has been translated into thirty-two languages, and will soon be a limited series on HBO Max. Mandel lives in New York City with her husband and daughter.
Posted: July 21, 2021