Knopf/Vintage Author Valeria Luiselli Wins the 2021 Dublin Literary Award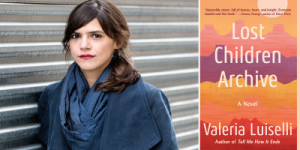 Valeria Luiselli has won the 2021 Dublin Literary Award for her novel, LOST CHILDREN ARCHIVE, published by Alfred A. Knopf and Vintage. Sponsored by the Dublin City Council to honor a single work of fiction published in English, this annual award bestows €100,000 (about $117,965) to the winner from among six finalists nominated by librarians worldwide.
The Dublin Literary Award panel of judges shared this praise: "While all of the books on this year's Shortlist provided outstanding instances of what the novel can do in the twenty-first century, the Judges felt that one book in particular pushed the boundaries of contemporary fiction, while at the same time telling a compelling story. Valeria Luiselli's LOST CHILDREN ARCHIVE manages to do many things at once. At its most basic level, it is the story of a couple and their children driving across the United States, from New York to the Southwest border with Mexico. The parents, who are sound recordists, want to make recordings of absences; she, of the children who have been lost crossing the border, he of the Native Americans who used to live in the area. However, woven into this framework are reflections on sound, on silence, a magic realist story read by the children, and artefacts, including an entire chapter made of Polaroid photographs. The result is a richly textured novel that reminds us that the novel is always capable of being pushed in new directions. As the title suggests, this is the novel as archive, as a repository of memory."
Our congratulations to Ms. Luiselli, to Robin Desser, who edited the book at Knopf before she moved over to Random House, and to everyone at Knopf and Vintage.
Posted: May 28, 2021