Knopf's Bill Loverd, Champion of Literary Titans, Dies at 78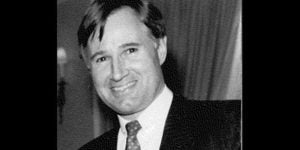 Bill Loverd, who, as the Director of Publicity at Knopf Publishers for nearly forty years, championed the work of some of the most distinguished writers of the last half of the twentieth century, died yesterday at his home in New Jersey. He was 78. The cause was cancer.
Loverd started at Knopf in 1965, when he was hired by the company's founder, Alfred, and he retired in 2002. During his 37 years with the publisher, he served as Vice President and Director of Publicity, as well as the Director of Corporate Affairs for Random House, Inc.
Loverd was the very embodiment of the House of Knopf. He was a gentleman in every way, but he was also someone who demanded perfection. He was Knopf's greatest public standard bearer, but, when he felt it was necessary, he could also be its fiercest critic. As the head of a department whose chief responsibility was to garner publicity for its books and authors, Bill was famous in book-publishing circles for avoiding the limelight for himself. But, on our behalf, he had a regular table at the Four Seasons, and he was social with all the key media long before the advent of social media. He also orchestrated glamorous publication parties at the Plaza, the Rainbow Room, the 21 Club, and the Russian Tea Room, for the likes of Katharine Graham, Walter Cronkite, Lauren Bacall, and Diana Vreeland. And he dashed off what must have been tens of thousands of personal notes, written by hand in his distinctive purple ink, to critics and book review editors around the country. But all the while he insisted that the books he promoted were not great because of his efforts; they were great because of the writers themselves and their editors.
During his time in publishing, Bill championed the writing of some of our most cherished writers, among them, John Cheever, Toni Morrison, John Updike, Cormac McCarthy, Michael Crichton, Maxine Hong Kingston, John le Carré, Alice Munro, Peter Taylor, Anne Rice, Robert Caro, Donna Tartt, Anthony Lukas, Norman Rush, Julia Child, Barbara Tuchman, V.S. Naipaul, Orhan Pamuk, and many, many more.
He shined the light on some of the our most memorable books. And for that, he led an incomparable life.
There will be a private service in the fall. Memorial donations may be made to Karen Ann Quinlan Hospice, 99 Sparta Avenue, Newton, NJ 07860. Online condolences may be made to www.woodfuneralhome.net.
* * * * *
WILLIAM T. LOVERD
August 1, 1940 — June 13, 2019
Posted: June 14, 2019