Koelb, Orange and Rosenberg on the Center for Fiction's 2018 First Novel Prize Shortlist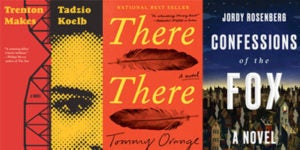 The shortlist for the Center for Fiction's 2018 First Novel Prize, annually awarded to the best debut novel of the year, has been announced. Among the seven finalists are three of our authors and their books published by Penguin Random House imprints:
TRENTON MAKES by Tadzio Koelb (Doubleday)
THERE THERE by Tommy Orange (Knopf)
CONFESSIONS OF THE FOX by Jordy Rosenberg (One World)
Congratulations to our authors as well as their editors and publishers.
View the complete 2018 First Novel Prize shortlist here.
This annual award was created in 2006. Debut novels published between January 1 and December 31, 2018 were eligible for this year's prize. The winner receives $10,000 with each shortlisted author receiving $1,000. The 2018 prize winner will be announced at the Center's Benefit and Awards Dinner on December 11 in New York City.
Posted: September 10, 2018