LadyGang Celebrating Their New Book with a Lady Bash via Zoom (6/12)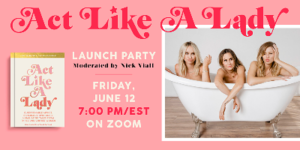 Keltie Knight, Becca Tobin and Jac Vanek, the hosts of the popular podcast and E! show LadyGang, and authors of ACT LIKE A LADY (Rodale), are celebrating the launch of their new book with a virtual "lady bash" via Zoom on Friday, June 12 at 7:00pm (ET).
Katie, Becca and Jac offer a relatable, empowering, and hilarious take on being unapologetically yourself (even if that's not always your best self) in a manifesto that redefines womanhood for the twenty-first-century lady. Unabashedly sincere, clever, and full of questionable advice, ACT LIKE A LADY explores the complexities surrounding topics like body image, breakups, navigating a career, and adult friendships through their own embarrassing experiences.
!! As a reminder, if you are a PRH employee posting to a personal or other non-PRH account, you must include the hashtag #TeamPRH !! 
Posted: June 11, 2020