Landdeck Shares Stories From THE WOMEN WITH SILVER WINGS via Zoom (5/5)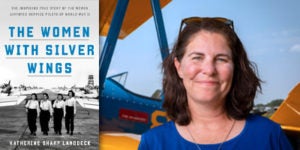 Katherine Sharpe Landdeck, author of THE WOMEN WITH SILVER WINGS: The Inspiring True Story of the Women Air Force Service Pilots of World War II (Crown), will be in conversation with Kali Martin at the National World War II Museum. They will delve into Landdeck's book and reference the museum's own WASP collection of artifacts and digital histories virtually via Zoom on Tuesday, May 5, at 12:00 noon (ET).
THE WOMEN WITH SILVER WINGS tells the riveting true story of the Women Airforce Service Pilots (WASP), an elite group of over a thousand women who flew planes for the United States military during World War II.
Landdeck is an associate professor of history at Texas Woman's University, the home of the WASP archives. A Guggenheim Fellow at the Smithsonian National Air and Space Museum and a graduate of the University of Tennessee, where she earned her Ph.D., Landdeck has received numerous awards for her work on the WASP and has appeared as an expert on NPR's Morning Edition, PBS, and the History channel. Her work has been published in The Washington Post, The Atlantic, and HuffPost, as well as in numerous academic and aviation publications. Landdeck is a licensed pilot who flies whenever she can.
As a reminder, if you are a PRH employee posting to a personal or other non-PRH account, you must include the hashtag #TeamPRH !! 
Posted: May 3, 2020