Lauren Graham's Dispatches About Gilmore Girls, Life, Love and Hollywood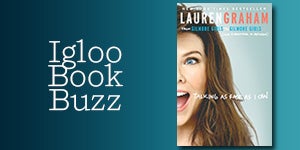 "I've always loved being transported to another world" Lauren Graham has said of her passion for reading. Growing up in Washington, DC, she and her dad would scour local bookstores for new discoveries. Writing a novel seemed like a logical next step in the career of the beloved actress, who holds a BA in English from Barnard College. Her first book, SOMEDAY, SOMEDAY, MAYBE became a bestseller and a critical success, with The Wall Street Journal calling it "A charmer of a first novel . . . [Graham] has an easy, unforced style and, when the situation calls for it, a keen sense of the ridiculous."
"Lauren's 2013 novel, SOMEDAY, SOMEDAY, MAYBE, established her as a talented writer with a terrific voice," says her editor Sara Weiss. "When she approached us about writing a book of personal essays that would tie into the release of Gilmore Girls: A Year in the Life, we knew it was a winning idea. Not only are Gilmore fans die-hard, but Lauren is the real deal – and the book more than delivers: The essays are honest, hilarious, quirky, and charming and reading it is like having a cup of coffee with your best friend. "
In TALKING AS FAST AS I CAN, Graham reveals stories about love, life, and working as a woman in Hollywood—along with the behind-the-scenes dispatches from the set of the new Gilmore Girls: A Year In The Life.
"Returning to the show justified putting together these thoughts and essays," with the Gilmore endeavors serving as "bookends," Graham told USA Today. "I thought, 'I feel so grateful to get to do this again that I'm going to write about what it was like.'"
Ms. Graham appeared on Ellen, The Today Show, Rachael Ray, The Chew, National Public Radio and was featured in The New York Times, USA Today, People magazine,Entertainment Weekly, among many other national outlets. Her events at the 92nd St. Y in New York and Sixth & I in Washington, DC both instantly sold out, along with a fantastic event at Barnes & Noble Union Square.
Posted: December 12, 2016