Lauren Groff Wins 2022 Joyce Carol Oates Prize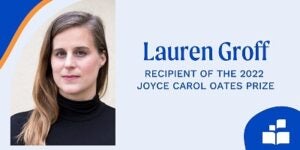 Riverhead author Lauren Groff has won the 2022 Joyce Carol Oates Prize. Presented by The New Literary Project, this award annually recognizes mid-career fiction writers with a "distinguished reputation and the approbation and gratitude of readers." The winner of the Prize receives a $50,000 award to foster and support future work. Our congratulations to Ms. Groff and everyone at Riverhead.
"Lauren Groff is an audacious writer of tremendous range and depth," said Joyce Carol Oates, "For all that, there is an enthralling undercurrent of poetry in her prose, with sentences of beauty that reward careful attention."
In the acceptance of her award, Groff mentioned, "This award will, I hope, spur me to finish the last part of my triptych circling ideas of religion, women, climate change, and capitalism, allowing me the space to breathe, think, and slow myself down so that I can make a weirder and riskier and more difficult book than I otherwise may have been able to write under all my usual pressures."
Join Lauren Groff for a conversation with Joyce Carol Oates and The New Literary Project Chair Joseph Di Prisco during a live virtual event presented by the New Library Project and co-sponsored by The Busby Group and BookTrib on Wednesday, May 4 at 7:00 PM (ET).
To register for this event, click here
Lauren Groff is the author of six fiction novels, with MATRIX being the most recent. Her work has won The Story Prize, the ABA Indies' Choice Award, and France's Grand Prix de l'Héroïne. She was a three time finalist for the National Book Award for Fiction and twice for the Kirkus Prize, and was shortlisted for the National Book Critics Circle Prize, the Southern Book Prize, and the Los Angeles Times Prize.
Posted: May 3, 2022