Lauren Ho to Discuss Her Debut Novel via Zoom (6/11)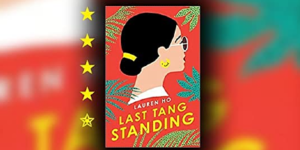 Lauren Ho, author of LAST TANG STANDING (Putnam), will be in conversation with author Mary Pauline Lowry at a virtual event hosted by Belmont Books via Zoom on Thursday, June 11 at 8:00pm (ET).
Ho's debut novel has been called "Crazy Rich Asians meets Bridget Jones's Diary," and is about the pursuit of happiness, surviving one's thirties intact, and opening oneself up to love. At thirty-three, Andrea Tang is living the dream: She has a successful career as a lawyer, a posh condo, and a clutch of fun-loving friends who are always in the know about Singapore's hottest clubs. All she has to do is make law partner, and her life will be perfect. And if she's about to become the lone unmarried member of her generation in the Tang clan–a disappointment her meddling Chinese-Malaysian family won't let her forget–well, she doesn't need a man to complete her.
Yet when a chance encounter with charming, wealthy entrepreneur Eric Deng offers her a glimpse of an exciting, limitless future, Andrea decides to give Mr. Right-for-her-family a chance. Too bad Suresh Aditparan, her office rival and the last man her family would approve of, keeps throwing a wrench in her plans. Now Andrea can't help but wonder: In the endless tug-of-war between pleasing others and pleasing herself, is there room for everyone to win?
Ms. Ho is a reformed legal counsel who writes funny stories. Hailing from Malaysia, she lived in the United Kingdom, France, and Luxembourg before moving with her family to Singapore, where she is ostensibly working on her next novel.
!! As a reminder, if you are a PRH employee posting to a personal or other non-PRH account, you must include the hashtag #TeamPRH !! 
Posted: June 10, 2020