Lawrence Wright to Discuss THE END OF OCTOBER via Crowdcast (5/22)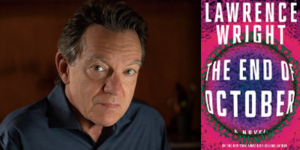 Lawrence Wright, author of THE END OF OCTOBER (Knopf), be featured at a Harvard Bookstore Virtual Event via Crowdcast on Friday, May 22 at 7:00pm (ET).
THE END OF OCTOBER is "an eerily prescient novel about a devastating virus that begins in Asia before going global" (The New York Post). In this riveting medical thriller – from the Pulitzer Prize winner and bestselling author – Dr. Henry Parsons is an unlikely but appealing hero, racing to find the origins and cure of a mysterious new killer virus as it brings the world to its knees.
Wright is a staff writer for The New Yorker, a playwright, a screenwriter, and the author of ten books of nonfiction, including The Looming Tower, Going Clear, and God Save Texas, and one previous novel, God's Favorite. His books have received many honors, including a Pulitzer Prize for The Looming Tower. He and his wife are longtime residents of Austin, Texas.
!! As a reminder, if you are a PRH employee posting to a personal or other non-PRH account, you must include the hashtag #TeamPRH !! 
Posted: May 21, 2020