Lee Child Talks About NIGHT SCHOOL, Real-Life Inspirations and His Writing Regimen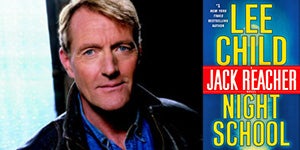 NIGHT SCHOOL, the new book from #1 New York Times-bestselling author Lee Child, is being published on Monday (11/7) by Delacorte Press. From Langley to Hamburg, Jalalabad to Kiev, this novel moves like a bullet through a treacherous landscape of double crosses, faked identities, and new and terrible enemies, as Jack Reacher maneuvers inside the game and outside the law.  To learn about the inspiration behind NIGHT SCHOOL, how his storylines are rooted in real life, the best part of seeing his books adapted into Hollywood movies, and his daily writing routine, read our interview with Lee Child.
What inspired you to go back in time to 1996 and Jack Reacher's Army Days for your latest book NIGHT SCHOOL?
Lee Child: Readers tell me they're always interested in seeing Reacher during his military career, and prequels are fun for me as a writer – they give me a chance to show him as a younger man, possibly more naive and optimistic and energetic.  In particular, I was interested in the mid-1990s – the security threats we're used to by now were just becoming apparent, and no one knew exactly who was involved, or where, or why.  But the administration was smart enough to admit they didn't know anything, and to follow an improvised, whack-a-mole policy. So I felt it was a very interesting era.
How have real-life incidents and news headlines influenced some of the storylines you've created?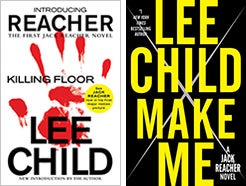 LC: Always, from the very first book, KILLING FLOOR, which was written when the US was updating its paper currency because of counterfeiting fears, all the way to MAKE ME, which caught up with the Deep Web, and now Night School, which traces the early origins of jihadist terror. I think thrillers need to be rooted in real life – although I have learned that if I can imagine it, it's already happening somewhere. Literally, you can't make this stuff up.
What are the best aspects of seeing your novels adapted into films on the big screen?
LC: Frankly and honestly, from my point of view, the best part is seeing someone spend $100m on promoting my books.
How would you describe your writing routine and regimen?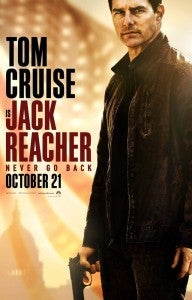 LC: It's disciplined, in that I work every day I can, but also a little self-indulgent, in that I start late in the morning. It's the best job in the world.
What piece of advice would you give to fledgling writers trying their hand at the suspense/thriller genre?
LC: I would say if you've read a lot in the genre, then just go for it. Do exactly what you want, and don't listen to advice from me or anyone else. A book needs a kind of organic vitality, and it won't have that if you write by committee. Ignore all thoughts that include the words "ought" or "should."  Write to please yourself alone. If you like the book, so will other people.
Posted: November 7, 2016