Leela Punyaratabandhu's BANGKOK Wins Art of Eating Prize for Best Food Book of 2018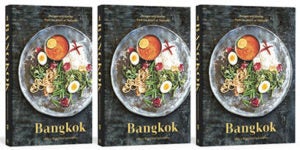 Ten Speed Press is pleased to announce that the prestigious Art of Eating Prize for Best Food Book of 2018 has been awarded to Leela Punyaratabandhu for BANGKOK: Recipes and Stories from the Heart of Thailand  Leela receives a $10,000 prize and a specially crafted hand-wrought ladle, a beautiful emblem of the prize.   The Art of Eating Prize is awarded annually to the author of the year's best book about food (or food and drink together).  Where other food book awards involve nominations in many categories, The Art of Eating Prize focuses on a single best book. The founders of the prize, by rewarding the highest quality work, hope to encourage the excellence of food writing in general.  The winner is decided by a panel of judges drawn from varied realms connected with food and drink. The seven judges are Eric Asimov, Lisa Abend, J. Kenji Lopez-Alt, Peter Meehan, Pim Techamuanvivit, Adam Sachs, and Frank Stitt.
Here is some of the praise for BANGKOK from the judges:
"Bangkok is brilliant. The headnotes entice, tell the story, and set the stage, while the recipes almost explode with the aromas of the ingredients. There is a passion and intellectual depth that is warm and friendly, along with a sensual attentiveness to the multitude of tiny details of cooking. Phenomenal book." –Frank Stitt
"For a cookbook to successfully translate a cuisine for a foreign audience, the author must be intimately familiar with both cultures. As a Bangkok native who spent her formative childhood years in Thailand and her professional adult years in the United States, Leela Punyaratabandhu was uniquely positioned to write Bangkok. The recipes are accessible but not dumbed down. The stories are exotic but relatable. You'll come away with a deeper understanding of a multi-cultural, dynamic city. And most importantly, you'll eat very, very well."
–Kenji Lopez-Alt
"I was born and raised in Bangkok. I admit to having been long annoyed by people touting regional Thai food as interesting and Central Thai or Bangkok food as boring when all they know of it is what they regularly order in from generic Thai restaurants while no one's looking. This book does justice to the mélange of regional, ethnic, and socioeconomic influences that comprise the cuisine of the fascinating city that, for over 200 years, has been the beating heart of Thailand. The recipe instructions are clear and workable while not being at all coy about the complexities. I will recommend the book to anyone who asks me about a Thai cookbook." –Pim Techamuanvivit
 "Bangkok is full of engaging stories, hungry-making pictures, and reassuringly precise and well-presented guidance. Most important, it passes the I-want-to-cook-everything test."          –Adam Sachs
Congratulations to Ms. Punyaratabandhu and everyone at Ten Speed Press.
Posted: March 5, 2018