Leigh Stein to Talk about SELF CARE with Jess Barron via Zoom (7/23)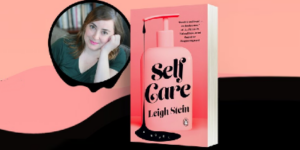 Leigh Stein, author of SELF CARE (Penguin Books), will be in conversation with Jess Barron, head of content and storytelling at HipCamp, at a McNally Jackson Booksellers virtual event via Zoom on Thursday, July 23 at 7:00 pm (ET).
Have you ever scrolled through Instagram and seen countless influencers who seem like experts at caring for themselves—from their yoga crop tops to their well-lit clean meals to their serumed skin and erudite-but-color-coded reading stack? SELF CARE delves into the lives and psyches of people working in the wellness industry and exposes the world behind the filter.
Stein is the author of the acclaimed 2012 novel The Fallback Plan, a poetry collection the same year, and the 2016 memoir The Land of Enchantment. From 2014–2017, she ran a secret Facebook group of 40,000 women writers, in her role as cofounder and executive director of Out of the Binders/BinderCon, a feminist nonprofit organization. She's been called a "leading feminist" by The Washington Post and "poet laureate of The Bachelor" by The Cut.
!! As a reminder, if you are posting to a personal or other non-PRH account you must include the hashtag #TeamPRH !!
Posted: July 22, 2020