Leila Cobo Presents an Oral History of Latin Music via Scrippscollege.edu (3/25)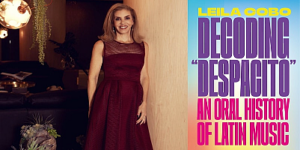 Leila Cobo, author of DECODING "DESPACITO"– An Oral History of Latin Music (Vintage), is featured at a virtual event hosted by Scripps College (Claremont, CA) via scrippscollege.edu on Thursday, March 25 at 8:00 pm (ET).
DECODING "DESPACITO" tracks the stories behind the biggest Latin hits of the past fifty years. From the salsa born and bred in the streets of New York City, to Puerto Rican reggaetón and bilingual chart-toppers, this rich oral history is a veritable treasure trove of never-before heard anecdotes and insight from a who's who of Latin music artists, executives, observers, and players. Their stories, told in their own words, take you inside the hits, to the inner sanctum of the creative minds behind the tracks that have defined eras and become hallmarks of history.
Leila Cobo is a Fulbright scholar from Cali, Colombia. Cobo is also a classical pianist, novelist, and executive Editor for Billboard. She has published two award-winning novels that have been translated into German and Italian. Her novel, The Second Time We Met, won the Latino Book Award for Best Popular Fiction and was selected by MSN and Latina as one of its top summer reads. Her biography on Jenni Rivera remained among the top 10 most-sold books in Spanish in the United States for more than 25 consecutive weeks and was named a top read by publications such as Latina and People en Español.
!! As a reminder, if you are posting to a personal or other non-PRH account you must include the hashtag #TeamPRH !!
Posted: March 19, 2021