Leila Slimani to Discuss SEX AND LIES via Zoom (7/18)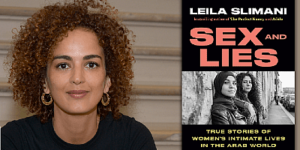 Leila Slimani, author of SEX AND LIES: True Stories of Women's Intimate Lives in the Arab World (Penguin Books), will be in conversation with Lisa Taddeo at a virtual event hosted by Green Apple Books (San Francisco, CA) via Zoom on Saturday, July 18, at 3:00 pm (ET).
Leila Slimani was in her native Morocco promoting her novel Adèle, about a woman addicted to sex, when she began meeting women who confided the dark secrets of their sexual lives. In Morocco, adultery, abortion, homosexuality, prostitution, and sex outside of marriage are all punishable by law, and women have only two choices: They can be wives or virgins. Sex and Lies combines vivid, often harrowing testimonies with Slimani's passionate and intelligent commentary to make a galvanizing case for a sexual revolution in the Arab world.
Slimani is the bestselling author of The Perfect Nanny, one of The New York Times Book Review's 10 Best Books of the Year, and Adèle, for which she won the La Mamounia Prize. A journalist and frequent commentator on women's and human rights, she spearheaded a campaign–for which she won the Simone de Beauvoir Prize for women's freedom–to help Moroccan women speak out, as self-declared outlaws, against their country's "unfair and obsolete laws." She is French president Emmanuel Macron's personal representative for the promotion of the French language and culture and was ranked #2 on Vanity Fair France's annual list of The Fifty Most Influential French People in the World. Born in Rabat, Morocco, in 1981, she now lives in Paris with her French husband and their two young children.
!! As a reminder, if you are posting to a personal or other non-PRH account you must include the hashtag #TeamPRH !!
Posted: July 15, 2020