Leslie Kimmelman and Galia Bernstein Celebrate THE EIGHT KNIGHTS OF HANUKKAH via Crowdcast (12/13)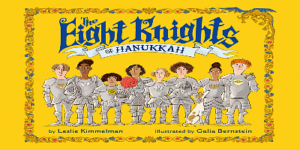 Author Leslie Kimmelman and illustrator Galia Bernstein, creators of THE EIGHT KNIGHTS OF HANUKKAH (Holiday House, a PRHPS publisher), will be part of a virtual Hanukkah Picture Book Celebration hosted by Books of Wonder via Crowdcast on Sunday, December 13 at 1:00 pm (ET).
Kimmelman crafts a humorous and touching story out of a bit of wordplay and a love for a holiday that truly shines. Bernstein's artwork is full of appeal and is sure to satisfy fantasy fans.
It's the last night of Hanukkah and everyone is doing their part for the big celebration, but a dragon called Dreadful has other ideas. He roams the countryside, interrupting the party preparations. Lady Sadie must call upon the Eight Knights of Hanukkah to perform deeds of awesome kindness and stupendous bravery and put an end to the dragon's shenanigans. When Dreadful eats all the special donuts the baker made, Sir Lily helps the baker make more sufganiyot. Sir Alex makes a young lad a new dreidel after Dreadful scorched his original one. And on the Knights go–but when they finally catch up to Dreadful, a funny surprise awaits them!
!! As a reminder, if you are posting to a personal or other non-PRH account you must include the hashtag #TeamPRH !!
Posted: December 9, 2020